MyTechFun.com
Sovol SV07 Klipper based 3D printer review
Title: Sovol SV07 Klipper based 3D printer review. Watch on youtube: https://youtu.be/hvAiDhvuNng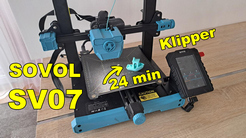 Tags: 3dprint, sovol, sv07, review, klipper,
Sovol SV07 is fast 3D printer based on Klipper. It can create a Benchy in 24 minutes (Ender-3 needs almost 2 hours for this). It has several elements which I like, but also several steps back compared to SV06 Plus.
Product page (affiliate link): https://sovol3d.com/products/sovol-sv07-klipper-direct-drive-3d-printer-print-speed-250mm-s?sca_ref=3039699.5YT8WfLlcb
Other mentioned in the video:
SV06 Plus review video: https://youtu.be/FcYqEFY3avk
Floating boat: https://www.printables.com/model/279299-simple-floating-boat-spiral-vase-mode
Rabbit: https://www.printables.com/model/143264-creality-rabbit
Tweezers: https://www.thingiverse.com/thing:1728041
Cable holder and Barbie slippers: download below this text.
0:00 Introduction
2:09 Unboxing
4:29 What is inside?
5:25 Assembling
7:46 Leveling
10:06 About accelerometer
10:42 Benchy, PLA
12:54 Sovol Cura
13:23 Rabbit, PLA
14:01 Spiral mode
14:45 Cable holder, PETG
15:56 Tweezers, ABS
17:45 Network
18:13 Barbie slippers, TPU
18:59 Conclusions
#sovol #sv07 #klipper
---
Download files:
---
© 2019
+
mytechfun.com |
Terms of Use