MyTechFun.com
Review of Prusament PA11-CF and PA Nylon Spring Steel Sheet
Title: Review of Prusament PA11-CF and PA Nylon Spring Steel Sheet. Watch on youtube: https://youtu.be/kgVyx9IqGM0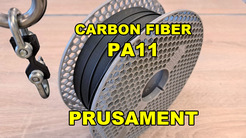 Tags: 3dprint, strength test, material test, prusament, nylon,
Prusament PA11-CF is a nylon filament reinforced with carbon fibers. In this video I am measuring its mechanical properties and comparing them with PC Blend CF. Prusa also has a new print sheet developed for nylon filaments. All objects are printed on Prusa MK3S 3D printer equipped with hardened nozzle. Temperatures inside DIY Ikea lack enclosure was 45°C.
Tested products:
PA11-CF: https://www.prusa3d.com/product/prusament-pa11-carbon-fiber-black-800g/
PA sheet: https://www.prusa3d.com/product/double-sided-powder-coated-pa-nylon-spring-steel-sheet/
Download results below this text.
If you like my work, you could support me by liking, sharing this video but donations are welcome too :-)
Patreon: https://www.patreon.com/mytechfun
Buy me a coffee: https://buymeacoffee.com/mytechfun
Paypal donation link: https://www.mytechfun.com/donation
Contents:
0:00 Introduction
1:00 About PA11-CF
2:54 Unboxing
3:21 Preparing for 3D printing
4:31 Temperature tower
6:36 Printing test objects
9:06 Start dimensions, weight
10:04 Annealing
10:29 Dimensions after annealing
11:17 About moisture
11:57 After two weeks, weights
13:05 Tensile (pulling) test
13:29 Layer adhesion test
14:03 Shear test
14:31 Bending test
15:36 Torque (twist) test
16:07 IZOD impact test
17:04 Bending (C) creep test
18:42 Compression (screw) creep test
19:51 Temperature test
21:08 Results
25:51 Conclusions
#prusament #pa11 #3dprinting #prusa #nylon
---
Download files:
---
© 2019
+
mytechfun.com |
Terms of Use