MyTechFun.com
CNC machining vs metal 3D printing (SLM) - Which is stronger? Services by PCBWAY
Title: CNC machining vs metal 3D printing (SLM) - Which is stronger? Services by PCBWAY. Watch on youtube: https://youtu.be/w1XqOZsFPrY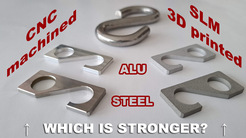 Tags: 3dprint, cnc, strength test, material test,
Few months ago I presented PCBWAY metal (SLM) 3D printing services. It was a pleasant surprise, how strong are those parts. Horizontally and vertically printed objects had similar strength. So, the obvious question was, how they preform compared to CNC machined objects? Let's find out.. Same test objects are CNC machined and 3D printed from aluminum and from stainless steel.
PCBWAY services: https://www.pcbway.com/
If you like my work, you could support me by liking, sharing this video but donations are welcome too :-)
Patreon https://www.patreon.com/mytechfun
Buy me a coffee: https://buymeacoffee.com/mytechfun
Paypal donation link: https://www.mytechfun.com/donation
Link to results is below this text.
0:00 Introduction
1:43 Unboxing
3:12 Surface quality
4:08 Advantage of 3D printing
4:37 Dimensional accuracy
7:37 Weight
9:15 Hook pulling test
10:29 Bending test
12:24 Results
12:58 About the price
13:51 Conclusions
#cncmachining #metal3dprinting #pcbway
---
Download files:
---
© 2019
+
mytechfun.com |
Terms of Use