MyTechFun.com
eSun ePLA-LW (Lightweight PLA) for model airplanes - printability and strength tests
Title: eSun ePLA-LW (Lightweight PLA) for model airplanes - printability and strength tests. Watch on youtube: https://youtu.be/AYZ2owbaJK0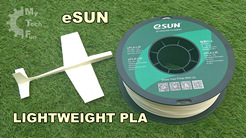 Tags: 3dprint, esun, strength test, material test,
ePLA-LW is filament designed by eSun for drone parts or model airplanes since it's density may be less than half of the regular PLA. Density of the filament can be controlled by printing temperature. Above 220°C it starts foaming (expanding), so we can reduce extrusion rate, but the final volume will be the same. In this video I tested the printability and strength of this filament and compared to eSun PLA+.
Link to product page: https://www.esun3d.net/products/500.html
eSun PLA filaments test video: https://youtu.be/uDXgE7os0Pg
All material testing videos: https://www.mytechfun.com/videos/strength_test
Some STL files used in this video can be downloaded below this text.
Airplane model: https://www.thingiverse.com/thing:4868033
Contents:
0:00 About lightweight PLA
4:04 Unboxing
5:15 PrusaSlicer settings
5:06 3D printing (tube, 265°C)
7:09 eSun PLA+ for comparison
8:12 Weight measurement
8:50 Bending test (tube)
10:04 Layer adhesion test
11:38 Impact test
13:05 Tensile test
13:45 Printing on 240°C
14:37 Cura settings
15:09 Printing (tube 240°C)
16:12 Weight (all 3 test objects)
16:22 Tube breaking (240°C)
16:34 Tube breaking results (all 3)
17:11 Temperature test
18:22 Printing model airplane
20:02 Conclusions
#lightweightpla #esunfilament #esun
---
Download files:
---
© 2019
+
mytechfun.com |
Terms of Use