MyTechFun.com
About PolyTerra by PolyMaker - the eco friendly filament
Title: About PolyTerra by PolyMaker - the eco friendly filament. Watch on youtube: https://youtu.be/Wvmf7qf_368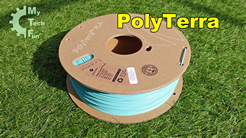 Tags: 3dprint, pla filament, filament test, polymaker,
The video is a review of PolyTerra PLA, the new filament by PolyMaker. This is PolyMaker's first step to switch to carton spools. Price of PolyTerra is low, compared to their earlier products (approximately 20$ in US and 20EUR in EU). PolyTerra™ PLA is a bio plastic compound which main polymer is PLA as well as an organic compound which makes it more eco-friendly. For every spool purchased they will plant a tree in the region where the spool was bought. The box and spool are made from of recycled carton.
In this video I am testing other properties from specifications like: matt surface, does it easier to remove supports, is warping reduced, tensile- and layer adhesion tests, brittleness (impact- and bending tests).
Images and more:
https://www.mytechfun.com/pla/polyterra
Coupon code (not affiliate coupon): MYTECHFUN
10% off for any PolyTerra™ PLA purchase on Polymaker EU or US website, can be used multiple time until December 31st 2021.
https://polymaker.com/polyterra-pla-info/
Rotating spool holder mentioned in the video:
https://www.banggood.com/Creativity-Filament-Barrel...
How can you support my work?
- share this video on social network
- buy me a coffee https://www.buymeacoffee.com/mytechfun
- become a patreon https://www.patreon.com/mytechfun
- PayPal: https://www.mytechfun.com/donation
Used STL files can be downloaded below this text.
Temperature tower: https://www.thingiverse.com/thing:2729076
Contents:
0:00 About PolyTerra
3:52 Unboxing
6:13 3D printing
6:26 Temperature tower
7:58 Benchy
8:56 Support removing test
11:08 Layer adhesion test
12:13 Tensile test
12:36 Warping test
14:43 Impact test
16:31 Bending test
17:36 Rolling friction
18:13 Final thoughts
#polyterra #polymaker #plafilament #3dprinting
---
Download files:
---
© 2019
+
mytechfun.com |
Terms of Use