MyTechFun.com
Siraya Blu vs PETG 3D printed bolts and nuts - a rematch of resin vs filament experiment
Title: Siraya Blu vs PETG 3D printed bolts and nuts - a rematch of resin vs filament experiment. Watch on youtube: https://youtu.be/7r16-UDo2t4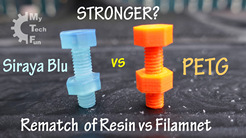 Tags: 3dprint, siraya, fdm vs sla, strength test, sla 3d printing, material test,
In first experiment FDM vs SLA I used the most popular and budget materials, like Elegoo Water Washable Photopolymer resin and PLA filament. A lot of comments suggested that I should use better materials, like PETG and Siraya Blu. Few weeks after that video Siraya Tech company contacted me and they sent me Siraya Blu resin for a review. So in this video I am comparing Siraya Blu and PETG 3D printed bolts and screw nuts.
Bolts are M6x20.
PETG material: Prusament PETG orange printed on Prusa MK3s
Siraya Blu printed on Elegoo Mars and Photon S.
https://siraya.tech/
The previous FDM vs SLA video:
https://youtu.be/k5xxZKv7IRg
Results can be seen on end of each test.
Contents:
0:00 introduction
1:44 analyzing Siraya Blu bolts
3:23 analyzing PETG bolts
4:37 Tensile test - bolts
5:15 Shear test - bolts
6:29 Torque test - bolts
7:57 Pulling test - nuts
8:53 Torque test - nuts
10:07 Impact test
12:25 Temperature test
15:09 Conclusions
Support my work over Patreon:
https://www.patreon.com/mytechfun
Or just buy me a coffee:
https://buymeacoffee.com/mytechfun
Support over PayPal:
https://www.mytechfun.com/donation
---
Download files:
No downloadable files for this video.
---
© 2019
+
mytechfun.com |
Terms of Use