MyTechFun.com
How to cut down the screw (bolt) without damaging the thread
Title: How to cut down the screw (bolt) without damaging the thread. Watch on youtube: https://youtu.be/XO3-whvwRQI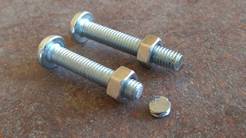 In this video I will show you how to shorten the bolt or machine screw without damaging the thread using only hand tools. The real power of 3D printed object is when you are combine it with other common or standard objects, like screws for example. But sometimes we don't have exact length of specific bolt. Just with cutting it, the thread will be damaged, that's why it is important to do it properly. In this video I am cutting two screws from panoramic head from my latest episode. First one is M8 with hexagonal head and this is easier to do compared to M5 with cylindrical head. All we need are simple hand tools like vise, hacksaw (for metal), file and additional nut(s).
My patreon: http://www.mytechfun.com/donation
Music in video: Kontinuum - Aware by LoveStep, licensed under a Creative Commons License.
https://soundcloud.com/monsterfree/kontinuum-aware
---
Download files:
No downloadable files for this video.
---
© 2019
+
mytechfun.com |
Terms of Use