MyTechFun.com
3D printed panoramic head for Gopro and spherical panorama
Title: 3D printed panoramic head for Gopro and spherical panorama. Watch on youtube: https://youtu.be/C4Ctd1sx82o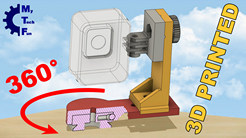 Tags: 3dprint, gopro, panoramic head, spherical panorama, product design,
Gopro Hero camera can be used to create full 360x180° spherical panoramas but we need a panoramic head, otherwise images cannot be stitched and we will have a lot of parallax errors. I designed and tested this small panoramic head using only very standard or common elements like screws, spring from ball pen or airsoft BB.
Contents:
-introduction
-design
-slicer, 3D printing
-assembly
-taking photos
-stitching
-upload panoramic image
List of materials (except 3D printed objects):
-M5x35 mm screw 2x
-M5 nuts 4x
-M5 washers 4x
-M8 screw and nut
-Spring from ball pen (4x25)
-Airsoft BB 6 mm
-Gopro screw
STL files can be downloaded below this text.
All videos related to Gopro or camera equipment:
http://www.mytechfun.com/videos/gopro
If you would like to support my work, my Patreon page:
https://www.patreon.com/mytechfun
---
Download files:
---
© 2019
+
mytechfun.com |
Terms of Use