MyTechFun.com
About food safe 3D printing
Title: About food safe 3D printing. Watch on youtube: https://youtu.be/lFtMIo00tfY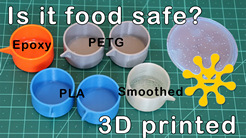 Tags: 3dprint, food safe, epoxy,
Let's talk about food safe 3D printing. I noticed on 3D printing forums, that users only ask about food safe filament type, like PLA or PETG, but some of these materials can be very toxic, depend of the coloring material or additives. It is important what type of nozzle we use, some of them contain lead. Very important task is Bacteria Buildup, gaps between layers are perfect place for them. In this video I was testing one good solution for food grade 3D printing, and that is coating with two component food grade epoxy resin. Results can be seen at the end of the video.
Download STL for the cup below this text.
Szent Istvan University, Faculty of Food Science:
https://etk.szie.hu/
Bacterial tests are made by Department of Biotechnology and Pharmaceutical Engineering (University of Novi Sad)
http://www.tf.uns.ac.rs/site/index.php/en/departments/9-katedre/251-biotechnology-and-pharmaceutical-engineering
---
Download files:
---
© 2019
+
mytechfun.com |
Terms of Use